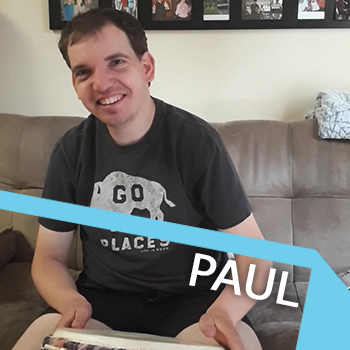 Summer is Paul's favourite time of year. He is happiest when he is riding in a motor boat, preferably one with a Mercury, Yamaha or Johnson Motor!
Paul is now 32 years of age, and every summer since he was 11, he's spent two weeks at YMCA Camp Wanakita in Haliburton. He started as a camper; more recently he's been a camp volunteer where he drives the "crash boat" or the Ranger, the camp's ATV. When Paul arrives at camp he is greeted with friendly cheers of "Paul's here" – he smiles broadly knowing he's in a place where he truly belongs.
Paul is well known in our community: he calls the bus drivers by name and knows where all the buses go, especially the ones to Tim Hortons! He's a friendly guy, greeting people he passes on the street whether he knows them or not. Paul has been taking the bus to his job at the Holiday Inn since 2008, where he works as a member of the Housekeeping staff, vacuuming the hallways, or as Paul says, "I drive the Zamboni."
He has been living in his own apartment in central Peterborough since 2010 and he loves it. He loves listening to music, playing Wii bowling, watching movies on his tablet and eating the food he helps to prepare. What's missing, however, are friends nearby and relationships with his neighbours – something Paul and his family are eagerly looking forward to when he moves to Shared Dreams at The Mount.